As avid fans of our World Series Champion Royals, all of us here at your hometown Blue Springs, MO Hyundai new car dealership, McCarthy Hyundai, are excited about the upcoming 2016 season. So what's in store for the Royals at their Surprise Stadium headquarters in Arizona? Here's a snapshot of what to expect from the Royals' Spring Training workouts.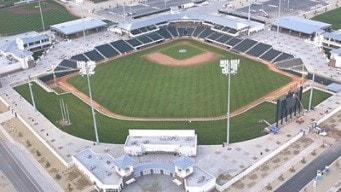 New Faces Going Places
Not choosing to be baited by the offseason free-agent feeding frenzy, Royals GM Dayton Moore went conservative. Moore's objective was to retain key players Alex Gordon and Chris Young while bolstering the team's pitching corps and bullpen. Dayton's goal was to help cut down the wear and tear on the Royals' bullpen by getting more innings out of his starting pitchers. Although it should be noted that last year's bullpen was the best in baseball, posting a 2.72 ERA and the second-best WHIP at 1.13. Here are some of the new faces destined to have an impact this season:
RHP Ian Kennedy – While KC paid a whopping $70 million, inking Kennedy to a five-year deal, their hoping that it pays off. Reuniting with pitching coach Dave Eiland when he was with the Yankees, it's hoped that Kennedy can handle up to 200 innings as the season unfolds.
RHP Joakim Soria – Soria returns to the Royals this season after starting his career with the club back in 2007. They hope he's back to form after having Tommy John surgery in 2012.
C Tony Cruz – Cruz comes in from the Cards to bolster the team's already strong catching corps led by Drew Butera and All-Star Salvador Perez.
RHP Dillon Gee – KC hopes to bring Gee up from the minors after posting a 3.62 ERA with the Mets in 2013. He'll be evaluated during Spring Training and may be called up to compete with Danny Duffy and Kris Medlen in the rotation.
On The Rebound
Look for five key Royals players to come back after having a disappointing 2015 season due to injuries or other factors.
Second Baseman Omar Infante – While Infante's defense played to the Royals' championship strength; he nevertheless fell short on the offensive end. This year, coaches hope that Infante will overcome some of his more vexing problems at the plate due to having been hit in the face in 2014 and have a more balanced season offensively and defensively.
LHP Danny Duffy – Duffy's got obvious talent, and he showed it in spurts last year. After a stellar eight-game stretch going 4 and 1, he seemed to lose control of his fastball, resulting in a significant decline. Nevertheless, he dominated coming in from the bullpen, so hopes are high that he can return to form and bolster the starting rotation once again.
RHP Ian Kennedy – Both Dayton and Manager Ned Yost look for Kennedy to break out after a so-so year with the Padres. Even Kennedy admits that he could have done better.
RHP Dillion Gee – Two years ago Gee started for the Mets but subsequently struggled and found himself on the outside as the Mets cultivated a crop of new, hard-throwing young receivers.
LHP Tim Collins – Collins is a big question mark for the Royals as he's still coming off Tommy John surgery that will keep him out of the bullpen until May at the earliest. If he heals up successfully, he'll add a needed left-hand arm to the Royals' relievers.
The Royals play their games at the beautiful Surprise Stadium, a 124-acre complex 25 miles northwest of Phoenix. The state-of-the-art ballpark seats 10,500 fans and boasts the latest amenities. Additionally, six full practice fields, a half-field, clubhouse, and team offices round out one of baseball's finest Spring Training facilities. The Royals share Surprise Stadium with the Texas Rangers organization.
The World Champs open the 2016 season at Kauffman Stadium with a two-game set against the Mets April 3 & 5, followed by a three-game homestand against the Twins April 8-10.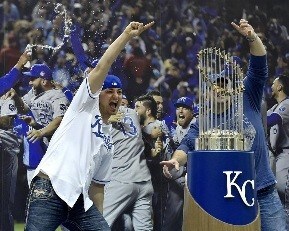 Touch 'Em All With A Championship Deal From McCarthy Blue Springs Hyundai
We're swinging for the fences and teaming up to offer you championship savings on our entire lineup of new 2015 and 2016 Hyundais in Blue Springs. Score a winning deal with our league-leading special offers, dealer markdowns, Hyundai lease specials, and Hyundai factory incentives.
Our Hyundai Certified Pre-Owned vehicles for sale near Independence, MO are not only the best of the best, but they're also a surefire home run that will save you thousands. On deck is our outstanding inventory of some of the best quality used cars under $15,000 near Kansas City.
We're just off I-70 at 3000 NW South Outer Road, Blue Springs, MO 64015. For Sales, please call 877-584-1401. For Service, call 877-572-6198.
Go Royals!
Sources:
http://kansascity.royals.mlb.com/index.jsp?c_id=kc
http://mlb.mlb.com/springtraining/
Photo Credits: