Lots of folks throughout Kansas City are set to don their festive green apparel in preparation of celebrating all the Irish-themed fun that surrounds this year's St. Patrick's Day celebration on Tuesday, March 17.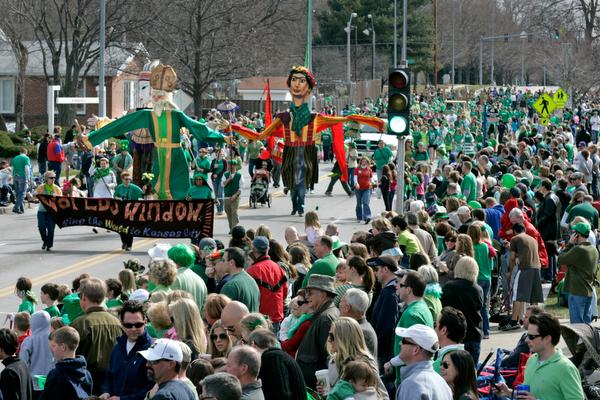 St. Patrick's Day is such a popular holiday here in Kansas City that parties, parades, and events take up the entire weekend, spilling over into Tuesday. Of course, all of us at McCarthy Hyundai of Blue Springs are also getting into the spirit of all things Irish. That's why we've put together this handy online guide to all of the exciting and colorful St. Patrick's Day celebrations that will be taking place throughout the area so that you won't miss any of the fun.
· The Chieftains
Helzberg Hall at the Kaufman Center for the Performing Arts; Wednesday, March 11th at 7 p.m.
Six-time Grammy Award-winning Irish performing artists The Chieftains bring their unique and harmonious traditional Irish music to Kansas City in this very special performance. Springing from some of the top Irish folk musicians of the Sixties, this highly acclaimed group spans 50 years of performing together, making them the most well-known and critically acclaimed Irish band in the world.
· Big Data - St. Patrick's Day Free Concert at Kansas City Live!
Tuesday, March 17 at 12 Noon
Presented by Miller Lite and 96.5 The Buzz - Must be 21+
· Irish Celebration with "Celtique" at the Matt Ross Community Center
Overland Park, Kansas, 1:30 p.m. to 3:30 p.m.
Enjoy traditional Irish music and learn an authentic Gaelic dance. Plus Irish trivia games and refreshments.
· Kid's Night Out St. Patrick's Day Party at the Roseland Park Community Center
Roseland Park, Kansas; 6 p.m. - 9 p.m.
Bring the kids for a magical night of Irish-themed fun. They'll enjoy a scavenger hunt for the Leprechaun's Pot 'O Gold, arts & crafts, dinner, and a special Shamrock treat.
· Lee's Summit Emerald Isle Parade & Special Activities
Downtown Lee's Summit; Saturday, March 14, 2015
Activities start at 8 a.m.; parade starts at 12 Noon.
· 38th Annual KC Track Club St. Patrick's Day Run and Little Shamrock Fun Run for Kids
Westport Road & Pennsylvania Ave., Kansas City, MO; Saturday, March 14, 2015
Start times: 9:55 a.m. Wheelchair start; 10 a.m. Runners/Walkers start; 11:15 a.m.
· 31st Annual Snake Saturday Parade and Family FunFest
14th and Swift, North Kansas City; Saturday, March 14, 2015
Festival starts 10 a.m.; parade at 11 a.m.
· 35th Annual Brookside St. Patrick's Warm-Up Parade
Saturday, March 14, 2015
Parade starts at 2 p.m.
· "Irishpalooza:" Kansas City's Biggest Little Fun Parade
Sunday, March 15, 2015
Sponsored by the Martin City Business and Community Association. Pre-parade events begin at 11 a.m. at State Line Point Shopping Center; parade starts at 2 p.m.
· 33rd Annual Shawnee St. Patrick's Parade
Shawnee, Kansas; Sunday, March 15, 2015
Parade starts at 1 p.m.
· 43rd Annual Kansas City St. Patrick's Day Parade
Tuesday, March 17, 2015
Parade route: Broadway from Linwood to 43rd Street
Parade starts at 11 a.m.


It's Your Lucky Day When You Shop at McCarthy Hyundai of Blue Springs
At McCarthy Hyundai of Blue Springs, your preferred Kansas City Hyundai dealership serving Blue Springs, MO and the surrounding area, you'll save lots 'o green on a new 2015 Hyundai during our special St. Patrick's Day sales event. We're even offering an extra $500 in Bonus Cash toward any new or used car purchase all this month, to mark our participation in the Kansas City Auto Show. We're conveniently located at 3000 NW South Outer Road, Blue Springs, MO 64015. For sales, call 877-584-1401; and for service, call 877-572-6198.
Sources:
http://explorekansascity.com/guide-to-st-patricks-day-activities-throughout-kansas-city-metro-area/